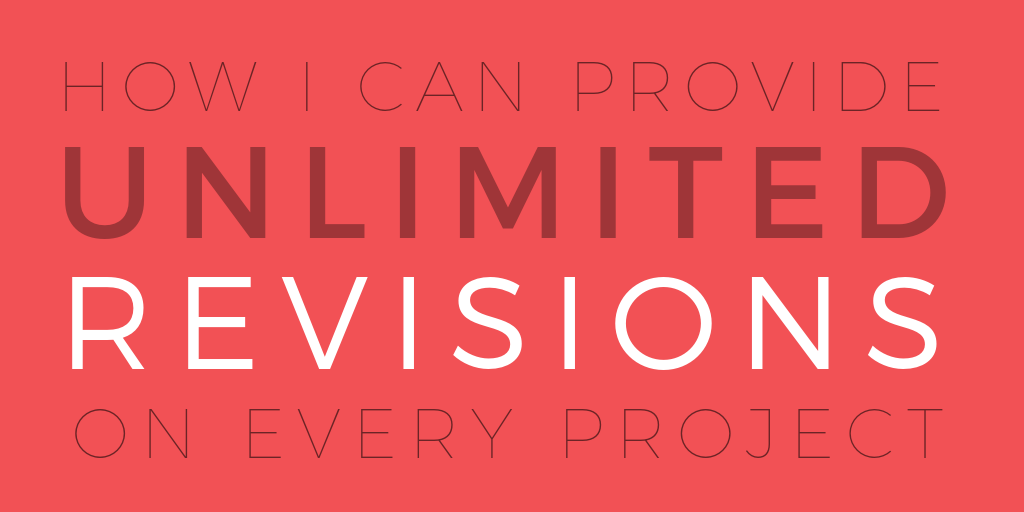 My Secret to Providing Unlimited Revisions on Every Single Project
I work with a lot of solopreneurs and personal brands, which means everything I create for these clients needs to sound exactly like them – maybe even better.
I've found that customization in my process is the key to emulating their voice and creating content they fall in love with. That's why I
start every project
by really getting to know my client's personality, brand, and business goals.
Of course, perfection doesn't exist. And in order to improve my own work, I need to get their feedback on the content I've created for them, which is why I include revisions in all client projects.
But I took that up a notch.
Unlimited Revisions
I offer unlimited revisions for two weeks on every project I work on. Blog posts, email newsletters, sales landing pages, you name it! That means from the point I deliver a piece of content, my clients can make hundreds or even thousands of revision requests, which I turn around within 1-2 business days.
You might be thinking that's pretty unsustainable, and it probably won't last for long.
Well, it might surprise you to learn that I'm usually only asked to make about a handful of revisions. Why? It's because of the time I take to understand my clients and their business.
I Know My Clients
This isn't just my process, it is also my personality. I choose clients because I believe in what they have to offer; because I can see the passion they put into their business; because I recognize the value they provide to their clients. I'm excited by what excites them – which is why I love working with solopreneurs.
Our communications are part business, part personal, and downright fun. I get to know my clients as people and as business owners, because (spoiler!) they're both. Personal branding is all about presenting yourself as you are to the world. If being yourself is part of how you attract clients, then I need to get to know the real you.
That's why I spend time stalking my clients online before I write a single word for them. I consume just about everything they've put out onto the internet, so I can get to know how they write, what they talk about, and where they inject their humor or personality. Then: I dig deeper.
I ask for the unpublished stuff: the content that they only share with their clients or simply created for themselves. I want to know how they frame their ideas for other audiences and how that changes their language. Then: I dig even deeper.
I ask them to complete a questionnaire that asks tough questions about why they make certain business decisions, how they chose their target audience, and what they really want to accomplish with their content. Only then do I start writing.
I've cultivated
this process
because it works for me – and my clients. And it's also why I have no problem promising two weeks of unlimited revisions. My goal in every project is to ensure my clients are beyond stoked with the final result. By taking the time at the beginning to get to know a new client and keeping her in mind at every stage in the writing process, I can deliver work knowing the revisions will be minimal.
Sounds like a win-win to me!
tl;dr Offering unlimited revisions could mean that I'm getting thousands of requests for changes, but I usually only receive a handful. Why? Because I've cultivated a process before I write a word that allows me to truly get to know my clients, their business, and their brand.
Author Bree Weber Published 9/20/2018, 9:43:49 AM Permalink